Gay Denver: The Latest
Chef Mario Batali, whose career crumbled amid sexual misconduct allegations, no longer owns a stake in Eataly, the Italian marketplaces he once heavily promoted.
She's been called Jeffrey Epstein's madam, the woman who recruited girls for his sexual appetites, and at times his social planner and household organizer in places ranging from New York to Palm Beach, Florida.
A well-known left-wing British journalist says he was pushed to the ground and kicked in the head in what he described as a "blatant premeditated assault."
It can be hard to keep smiles healthy in rural areas, where dentists are few and far between and residents often are poor and lack dental coverage. Efforts to remedy the problem have produced varying degrees of success. The biggest obstacle? Dentists.
The Metropolitan Amvrosios of Kalavryta, a fiery conservative Greek Orthodox bishop known for criticizing, often in intemperate terms, those who he believed acted in a "non-Christian" / "non-Greek" way, including gays, migrants and politicians, resigned.
Heavy rain fell on tens of thousands of umbrella-toting protesters Sunday as they marched from a packed park and filled a major road in Hong Kong.
Seeking to end a humanitarian crisis, Spain says a Spanish rescue boat with 107 migrants in the southern Mediterranean can sail to Spain and disembark its passengers in Algeciras.
Three riot police officers, a police commander, a police academy teacher — all are among eight French police officers who have killed themselves recently. That makes 64 so far this year — and the number just keeps on climbing.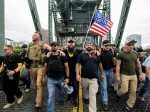 Hundreds of far-right protesters and anti-fascist counter-demonstrators swarmed downtown Portland, Oregon, on Saturday for a long-hyped rally that attracted President Donald Trump's attention and resulted in at least 13 arrests.
Leaked British government documents have warned of disruptions across the country in the event that the U.K. leaves the European Union without a trade deal on Oct. 31.
Doctors and public health experts warn of poor health and rising costs they say will come from sweeping Trump administration changes that would deny green cards to many immigrants who use Medicaid, as well as food stamps.
This documentary talks about the importance of LGBTQ+ television representation, as well as the particularities and power of queer fandom.
If a handy machine is not in your bank's network, you could get a double whammy of fees. You can avoid paying ATM surcharges, however, with some prep work. Here are ways to get cash without the expense on your next trip.
With suicides on the rise, the U.S. government wants to make the national crisis hotline easier to reach.
If you're looking for deeply discounted airfare, Secret Flying aggregates hundreds of flight routes each week to make your next bucket list vacation a reality.
Uber began as a ride-hailing company, but its ambition to become the "Amazon of transportation" has pushed its leaders to experiment with bus fleets, transit and its growing food delivery business.
Tiffany & Co. is launching its first comprehensive jewelry collection for men in October as it seeks to diversify its traditional customer base.
Buprenorphine is a drug that curbs cravings and treats the symptoms of withdrawal from opioid addiction. But gaining access to it can be nearly impossible.
These exciting new hotels are the perfect way to anchor a day-long or weekend getaway, and this autumn will showcase an array of impressive additions to a rapidly expanding hotel landscape.
The Gay Days daytime pool party and Expo took place at Wyndham Orlando. Check out these great photos.