Top Story
Susan Wojcicki, the head of YouTube, tendered her apologies to the GLBTQ community after widespread outrage following a gay journalist's documentation of what he says is haras...
The chief salesman for Airbus says his company already has the technology to fly passenger planes without pilots at all — and is working on winning over regulators and travelers to the idea.
Oregon is on the precipice of becoming the second state after California to adopt a cap-and-trade program, a market-based approach to lowering the greenhouse gas emissions behind global warming.
Trouble is brewing for piping plovers, already one of the Great Lakes region's most endangered species, as water levels surge during a rain-soaked spring that has flooded large areas of the Midwest.
The battle to contain the worst U.S. measles outbreak in 27 years has a new front: summer camp.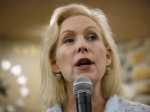 Democratic presidential candidate Kirsten Gillibrand (KEER'-sten JIHL'-uh-brand) says fellow challenger Seth Moulton has agreed to sign her cyber pledge not to use stolen or hacked material for political gain.