1 thru 10 of 6369 Stories
Polls opened Sunday in Ukraine's presidential runoff as the nation's incumbent leader struggles to fend off a strong challenge by a comedian who denounces corruption and plays the role of president in a TV sitcom.
In moments of concern as Mueller's investigation into Russian interference in the 2016 election got underway, Trump turned to his spy chiefs for help.
Is the two-state solution for the Israeli-Palestinian conflict dead? After Prime Minister Benjamin Netanyahu coasted to another victory in this month's Israeli election, it sure seems that way.
Sen. Mitt Romney says he's "sickened" by the dishonesty the Russia investigation found in the Trump White House, but the president fires back that Romney should have put the same energy into running for president in 2012.
Special counsel Robert Mueller all but boldfaced this finding in his report on the Russia investigation: No exoneration for President Donald Trump on whether Trump criminally obstructed justice. That's not how Trump is spinning it.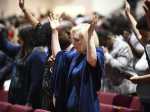 By now, most Democratic presidential candidates have polished their stump speeches. But when they're in South Carolina, they may need to add in a sermon.
President Donald Trump lashed out Friday at current and former aides who cooperated with special counsel Robert Mueller's investigation.
The legal threat to Trump that seemed so dangerous upon Mueller's appointment in May 2017 has waned.
Kentucky's lightning-rod governor also has run the risk of firing up Democratic voters heading into the November general election.
A Florida man unleashed threatening rants over the phone against three Democratic members of Congress, as he raged against gun control, illegal immigration, homosexuals, black people and Muslims, authorities said.
1 thru 10 of 6369 Stories