1 thru 10 of 26879 Stories
On Tuesday, the last Volt was built with little ceremony at a Detroit factory that's now slated to close.
A photo of a statue of a shirtless Abraham Lincoln is going viral, thanks to Twitter users who are not holding back their thirst for the depiction of the 16th president of the United States.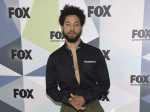 Lawyers for Jussie Smollett say the Chicago Police Department put on an "organized law enforcement spectacle" when its superintendent detailed investigators' findings about the alleged attack on the "Empire" actor.
Jussie Smollett is enmeshed in weekly drama on the set of "Empire," the Fox TV series that gave the actor a breakout role and the fame to advance his social activism.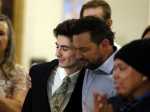 Two Republican lawmakers proposed a ban on gay conversion therapy for minors in conservative Utah on Thursday, a plan that's been hailed as a milestone by advocates and won't be opposed by the influential Mormon church.
Two brothers who played central roles in what Chicago police say was a staged racist and homophobic attack on Jussie Smollett are, compared to the "Empire" actor, so far walking away legally unscathed.
As authorities laid out their case against "Empire" actor Jussie Smollett, the narrative that emerged Thursday sounded like that of a filmmaker who wrote, cast, directed and starred in a short movie.
Police tapped into Chicago's vast network of surveillance cameras — and even some homeowners' doorbell cameras — to track down two brothers who later claimed they were paid by "Empire" actor Jussie Smollett to stage an attack on him.
The alleged fabrication is one of the biggest superstar scandals in recent memory, but Jussie Smollett joins a list of celebrities, athletes and others who faced a similar backlash.
Two brothers who told police that Jussie Smollett paid them $3,500 to help stage an attack on himself were linked to the actor through the "Empire" television series, and court documents filed Thursday allege one of the men provided Smollett with designer
1 thru 10 of 26879 Stories