1 thru 10 of 5839 Stories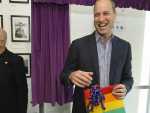 Britain's Prince William says it would be "absolutely fine" if one of his children came out as gay though he'd worry about how the public would respond.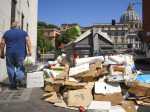 Doctors in Rome are warning of possible health hazards caused by overflowing trash bins in the city's streets, as the Italian capital struggles with a renewed garbage emergency aggravated by the summer heat.
Authorities around the French capital have issued an orange alert for intense heat — the second-highest level on its scale — as very hot temperatures are expected across continental Europe this week.
Hundreds of thousands of people filled a main São Paulo thoroughfare for one of the world's largest LGBT pride parades — the first since the election of far-right President Jair Bolsonaro.
A ceremony has been held at the former site of Germany's Buchenwald concentration camp to remember people imprisoned there because they were thought to be gay.
Thousands of supporters of LGBT rights have marched through the center of Kiev, the Ukrainian capital, under a heavy police presence to separate them from opponents.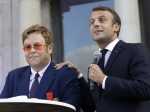 Elton John, a newly awarded Legion of honor pinned to his suit, joined a call Friday by French President Emmanuel Macron to fund AIDS research and treatment.
Aldo Iván Dávila Morales is poised to take up a seat in Guatemala's congress in January, making history as the first openly gay man elected to the country's legislature.
When Johan Álvarez was unable to provide more than one meal a day for his young family he knew it was time to leave Venezuela. Now they are among a growing swell of Venezuelans asking to be recognized as refugees.
Voluntary euthanasia became legal in an Australian state on Wednesday more than 20 years after the country repealed the world's first mercy-killing law for the terminally ill.
1 thru 10 of 5839 Stories