Gay Denver: The Latest
Ryan Deluca, a Furman University football player came out publicly as gay on Instagram on Thursday, less than two weeks after his final game with the school.
Recently the 2022 Grammy nominations were announced, and although many artists like Olivia Rodrigo, Billie Eilish, Doja Cat, and Lil Nas X scored nominations in the expected places, there were plenty of surprises and snubs.
A new CDC report shows how HIV/AIDS has impacted African-American and Latinx men who have sex with men.
'Pretty Little Liars' star Julian Morris, 38, declared his love for longtime partner Landon Ross in a social media post that marked their 18th anniversary — and he came out in the process.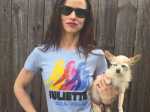 Peacock's upcoming "Queer As Folk" cast is complete with Juliette Lewis, Ed Begley Jr., Armand Fields, Chris Renfro, Eric Graise, Sachin Bhatt, and Benito Skinner joining the show.
Antony Sher, one of the most acclaimed Shakespearean actors of his generation, has died aged 72, the Royal Shakespeare Company said Friday.
The cast of "RuPaul's Drag Race" Season 14 includes a major surprise: the show's first-ever heterosexual, cisgender male contestant.
Out soccer star Josh Cavallo opened up about how miserable he was before he came out of the closet and became the world's only openly gay active top-flight soccer player.
A new study reveals low PrEP use and poor access to HIV care are contributing factors for HIV infection for Black men in the South who have sex with men.
This week's edition of Gay Twitter includes hilarious reactions the new season of "Selling Sunset," Spotify Wrapped, and much more!
The omicron variant of COVID-19 has been discovered in at least five states by the end of Thursday.
The timely and harrowing true story of an Afghanistan refugee who, by various means of human trafficking, makes his way from Kabul to Denmark.
Federal health officials are requiring airlines to gather contact-tracing information on passengers heading to the U.S. who have been in southern Africa in the previous two weeks.
Vaccinating kids against COVID-19 also means reducing silent spread, since most have no or mild symptoms.

As Americans shop for the holidays, they will likely see a swarm of offers to get their gifts now but pay for them later in fixed monthly installments.
For three years running, Edmunds' experts have considered the Honda Odyssey one of the top rated in the class. Now there's finally a new rival in town: The 2022 Kia Carnival.

The pandemic-induced supply chain snarls have created unprecedented shortages across all types of products for holiday gift-giving.
Scientists caution that it's still too early to say whether omicron will prove as dangerous as delta. For now, here's what we know, and don't know, about the omicron variant.
Travelers heading to the U.S. will be required to show evidence of a negative test for the virus within one day of boarding their flight.

A very pregnant Ladyfag presented Battle Hymn at Rumi Event Space with a special birthday celebration for Amanda Lepore, with DJ's Eli Escobar and The Carry Nation.