Gay Denver: The Latest
Scientists say unprepared immune cells appear to be responding to the coronavirus with a devastating release of chemicals, inflicting damage that may endure long after the threat has been eliminated.
A new national study adds strong evidence that mask mandates can slow the spread of the coronavirus, and that allowing dining at restaurants can increase cases and deaths.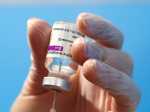 None of these are legit, even though they were shared widely on social media. The Associated Press checked them out. Here are the facts.
Sydney's annual iconic Gay and Lesbian Mardi Gras went ahead on Saturday, only in a different format due to coronavirus restrictions.
Dave Karger has been passionate about movies since he was a kid and pursued a career as an entertainment journalist. More recently he is one of the hosts on Turner Classic Movies. EDGE spoke to Karger about his career.
Strut, a gay club in Costa Mesa, Calif., will unveil a new mural paying tribute to country music legend Dolly Parton and frontline medical workers in the pandemic.
Edie Falco has signed on to play Hillary Clinton in "Impeachment: American Crime Story," the third installment of the Ryan Murphy-created series.
Following homophobic comments made on Instagram about him by rapper Tekashi Six Nine, Lil Nas X responded by exposing DM's between them on TikTok.
President Biden appointed Reggie Greer, the LGBTQ engagement director for his campaign, as a senior advisor on LGBTQ issues for the current administration on Wednesday.
As the speed of covid vaccinations picks up, so do the reports of doses going to waste. And it's more than just a handful at the end of the day because of a few appointment cancellations.
LGBTQ Brigham Young University students and allies made quite the statement Thursday night, lighting up the college's iconic "Y" logo in rainbow colors in an act of protest.
Ahead of his new album next week, Justin Bieber is sharing the music video for his latest single "Hold On."
Senate leaders and moderate Democratic Sen. Joe Manchin struck a deal over emergency jobless benefits, breaking a logjam that had stalled the party's showpiece $1.9 trillion COVID-19 relief bill.
SpaceX's futuristic Starship looked like it aced a touchdown Wednesday, but then exploded on the landing pad with so much force that it was hurled into the air.
If President Biden has his way, he will create a public credit reporting agency (CRA) to compete with the three major credit bureaus and maybe one day replace them altogether.
Volvo says it will make only electric vehicles by 2030. But if you want one, you'll have to buy it online.
Chef April Stamm helps launch the Vegan Fusion Culinary Academy, a newly opened specialized cooking school in Boulder, Colorado.
In California, confusion and botched communication has caused some eligible parents and family caregivers of people with disabilities to be turned away at covid vaccination sites.
With a vaccine roll-out and visions of luxury travel in my head, I contacted three of the best award booking services with three different potential trip requests for late 2021 to see if they really did save me miles and time.
Virgil's Sea Room, a queer bar that opened in 2013 in the Mission District of San Francisco, is permanently closing.