Top Story
"When we're voting, it's easy to think it's just for a candidate or party we align with, but it's so much more than that," says Drag Out the Vote'...
1 thru 10 of 55275 Stories
President Trump's youngest daughter Tiffany Trump spoke at his Pride event in Florida this week and used the acronym LGBQIIA+ to describe the queer community, leaving the out the usual "T," which represents the trans community.
Transgender youths in the United States and Britain are turning to TikTok to help raise the money they need for their gender transitions.
A longtime nexus for the LGBTQ community, the Albuquerque Social Club was hit so hard by the COVID-19 pandemic that its board decided to shutter the establishment. But the local community wouldn't hear of it.
Billy Porter narrates "EQUAL," a new docuseries on HBO Max that traces the history of the LGBTQ movement through the Stonewall uprising in 1969.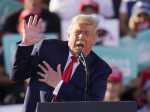 An angry President Donald Trump has come out swinging against Dr. Anthony Fauci, the press and polls that show him trailing Democrat Joe Biden in key battleground states in a disjointed closing message two weeks before Election Day.
President Donald Trump's sprawling political operation has raised well over $1 billion since he took the White House in 2017 — and set a lot of it on fire.
Today the LGBTQ Victory Fund, a national organization specifically dedicated to electing LGBTQ leaders to public office, released its inaugural report detailing both the progress and work that lies ahead for greater LGBTQ political representation.
The New Yorker has suspended reporter Jeffrey Toobin for exposing himself in Zoom call.
Dalton Harris, winner of the U.K.'s "The X Factor" Season 15 in 2008, appears to have come out as pansexual over the weekend.
YouTuber Noah Lindquist takes on mask denial in a funny take-off of "Be My Guest" from Disney's "Beauty and the Beast"
1 thru 10 of 55275 Stories