Top Story
A breakdown of organizations that aim to help Black queer and trans people that you can now donate to during LGBTQ Pride Month.
1 thru 10 of 53173 Stories
Adult performer Nacho Vidal (aka Jordá González) was detained last week in Spain's Valencia region in connection with the death of fashion photographer Jose Luis Abad in July 2019 at Vidal's home.
Iyanna Dior, an African-American transwoman, was attacked and beaten by a mob of more then thirty people after a minor traffic accident in Minneapolis on June 1, news sources reported.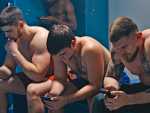 The company that owns the gay dating apps Scruff and Jack'd announced this week that it will be removing the "ethnicity filters" from both platforms in order to show support for the Black Lives Matter movement.
A worldwide LGBTQIA+ Pride event has announced the first wave of speakers and acts appearing at the online event on June 27, expected to attract up to 300 million viewers.
Not that anyone expected recognition for Pride month from President Trump, but to some, the Trump campaign's continued selling of MAGA "pride" shirts is confounding.
President Donald Trump is not only drawing criticism from his usual political foes but also backtalk from his defense secretary, his former Pentagon chief and a growing number of Republicans.
Drew Brees apologized Thursday for comments that were "insensitive and completely missed the mark" when he reiterated his opposition to Colin Kaepernick's kneeling during the national anthem in 2016.
Civil rights icon John Lewis said Thursday that the video of George Floyd's death at the hands of police in Minnesota "made me cry."
The event will be hosted by Ashlee Marie Preston and Brian Michael Smith. Speakers include Ceyenne Doroshow, Annie Segarra, Edafe Okporo, Leandro E. Rodriguez Ramos and many more.
Paramedics in Bogotá, Colombia reportedly refused care to a transwoman living with HIV named Alejandra Monocuco, and left her to die.
1 thru 10 of 53173 Stories