Frameline's mission is to change the world through the power of queer cinema. As a media arts nonprofit, Frameline's integrated programs connect filmmakers and audiences in San Francisco and around the globe. Frameline provides critical funding for emerging LGBTQ+ filmmakers, reaches hundreds of thousands with a collection of over 250 films distributed worldwide, inspires thousands of students in schools across the nation with free films and curricula through Youth in Motion, and creates an international stage for the world's best LGBTQ+ film through the San Francisco International LGBTQ+ Film Festival and additional year-round screenings and cinematic events. Learn more at www.frameline.org
Italian/Turkish queer filmmaker Ferzan Özpetek's latest gay dramedy is another sheer joy.
A mid-life crisis has Colm seeking out a 19-year-old hustler, even though neither man considers himself gay.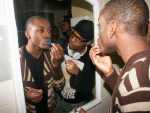 Life for the homeless LGBTQ kids that hang out on Chelsea Piers on Manhattan is far from rosy, but at least there there is a supportive community to which they feel they belong
This 11-day virtual event will feature 10 world premieres, four international premieres, three North American premieres, and one U.S. premiere, including new narrative features, documentaries, episodics, and shorts programs.