Review: It's Lange Versus Kong in Shout's 'King Kong' Collector's Edition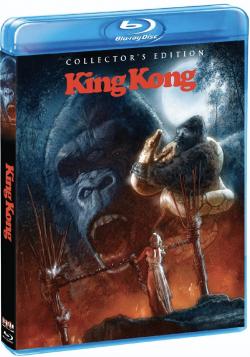 The naïveté seen in many aspects of a new Shout Factory Blu-ray release stops the film from being a total bust.

1976's "King Kong" divided critics and fans alike after it arrived in theaters and, for many years after, became a topic of debate amongst film historians. Some lambasted first-time actress Jessica Lange in her debut role, forcing the actress to take serious acting lessons afterwards and wait three years for the next film to come along.

The wildly inconsistent special effects can be seen vividly on Shout's Blu-ray release. But in 1976, effects crew did what they could with the visual effects technology they had. And let's not forget the forcibly bad dialogue heaped upon the cast, most often given to Lange as she plays a celebrity-hungry would-be actress named Dwan...a purposely misspelled name for Dawn.

Jeff Bridges and Charles Grodin are fine in their bickering roles of the hero and the money-obsessed executive, respectively.

Regardless of its apparent problems, this Beauty and the Beast story raked in $90 million at the box office, an unheard of sum of money for the mid-1970s. That alone makes "King Kong" a classic.

Special features on the Blu-ray disc are hit and miss. Of course, we'd all love some behind-the-scenes gossip from the film's three main stars. Instead, there are interviews with special effects crew, production assistants, and one with actor Jack O'Halloran. The focus is on how Kong was created vs. the acting process in these extras.

This Blu-ray "Collector's Edition" release from Shout Factory's also includes the extended broadcast television cut, clocking in at a whopping 182 minutes.


"King Kong" is out on Blu-ray from Shout Factory on May 11, 2021.
Ken Tasho is a Corporate Drone by day and Edge Contributor by night. He has a love for all things '80's and resides in the Wayland Square area of Providence, RI...but would much rather be sharing an apartment in NYC with '80's rock goddesses Pat Benatar and Deborah Harry.
Comments on Facebook