Review: Now You Can Treasure 'Schitt's Creek - The Complete Collection'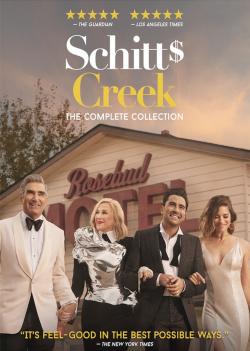 This year's Emmy-winning juggernaut "Schitt$ Creek" is out with a complete collection of all six seasons, which originally aired from 2015 to April of this annus horribilus. With a running time of over 28 hours, the 80-episode DVD set is a binge-worthy distraction as Americans embark on season two of a national quarantine.

Set and shot in rural Ontario, the show is a kind of "Green Acres" reboot, where a one-percenter family loses their mansion and millions and are forced to move to the small town they previously bought as a joke. Beetle-browed video store magnate Johnny Rose (co-creator and producer Eugene Levy) and his be-wigged former soap-opera star wife Moira (North American treasure Catherine O'Hara) try to keep their bratty adult children from self-destructing as they judge their hillbilly neighbors.

Perpetually petulant and hirsute son David (co-creator and producer, and Eugene's son, Dan Levy) hits on motel manager Stevie (Emily Hampshire) while cataloguing his black-and-white, asymmetrically-hemmed couture collection, and dipsy daughter Alexis (Annie Murphy) performs community service for a previous DUI and macks on the local veterinarian. The mostly Canadian cast also includes another Levy scion — daughter Sarah plays diner waitress Twyla.

Special features from each season include deleted and extended scenes, bloopers and webisodes, a series of in-character, behind-the-scenes teasers, including "Jocelyn's House Tour" (the mayor's wife, spouse to the town's namesake, played by Jennifer Robinson), "The Suggestion Box" (written by David, read by Stevie), "Mom's Wigs" (a tour of Moira's individually-named hair pieces by her snarky progeny), "Café Tour" (led by earnest employee Twyla through Café Tropical, home of the giant plastic menus), and "Vet Talk" (with goofball vet Ted Mullins, played by Dustin Milligan).

Due to COVID idiocy, Americans currently can't emigrate to the Great White North, but we can certainly paddle up this creek.


"Schitt's Creek: The Complete Collection" was released on DVD Nov. 10.
Karin McKie is a writer, educator and activist at KarinMcKie.com
Comments on Facebook