Review: 'Two of Us' a Richly Detailed Emotional Journey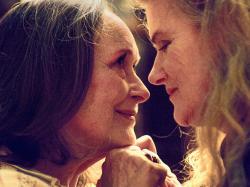 Nina (Barbara Sukowa) and Mado (Marine Chevallier) live opposite each other. They have been conducting a secret affair for decades. After the death of Mado's husband they are on the verge of leaving behind their clandestine life in France. Mado has promised Nina she will tell her grown up children she is leaving, but, at the last moment, she fails to find the words. "Two of Us," directed by Fillipo Meneghetti, s deeply optimistic about the enduring nature of love and its ability to overcome the most adverse circumstances.
Roger Walker-Dack, a passionate cinephile, is a freelance writer, critic and broadcaster and the author/editor of three blogs. He divides his time between Miami Beach and Provincetown.
Comments on Facebook