Top Story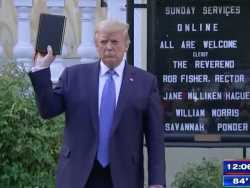 Cloaking himself in religion for the second day in a row, President Donald Trump sought to seize the moral authority to justify his hard line against demonstrators.
1 thru 10 of 15615 Stories
Not that anyone expected recognition for Pride month from President Trump, but to some, the Trump campaign's continued selling of MAGA "pride" shirts is confounding.
Within a week of Cafe Momentum closing to dining in March because of the pandemic, the teens had started building meal kits for needy families.
Three men with ties to right-wing extremists have been arrested on terrorism-related charges of planning to spark violence at both reopen and George Floyd protests.
The family of a popular barbecue chef said he was protecting his restaurant amid chaos caused when officers began pelting people with pepper balls.
Brazen thefts have been carried out nationally by well-coordinated criminals who capitalize on chaos and use both the protests and other tactics to throw police off their trail.
The state of Minnesota on Tuesday launched a civil rights investigation of the Minneapolis Police Department.
President Donald Trump said he is seeking a new state to host this summer's Republican National Convention
Some people are creating informal networks as protests pop up in new corners of their cities and states, with many attendees who've never protested before.
Journalists alarmed by dozens of incidents where reporters were shot at, manhandled, gassed or arrested are fighting back legally.
Movie theater chain AMC warned Wednesday that it may not survive the coronavirus pandemic, which has shuttered its theaters and led film studios to explore releasing more movies directly to viewers over the internet.
1 thru 10 of 15615 Stories