ESPN's Two-Part 'Lance' Examines a Hero, His Fall, and the Question of Redemption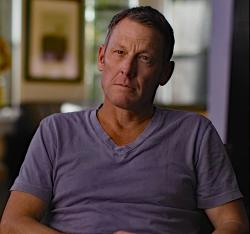 He lied repeatedly and with supreme self-assurance. He lashed out with vitriol at those who challenged him on his lies. He even hurled an appalling slur at a female accuser.
Eventually, he came clean - and faced the music.
In 2013, after nearly a decade of rumors about doping, and with the testimony of his fellow athletes - who had also been doping - shedding light on a sports-wide practice, Lance Armstrong admitted to his wrongdoing on The Oprah Winfrey Show. At that point, he became a pariah, as so often happens with toppled heroes.
Seven years later, the ESPN two-part documentary "Lance" poses the question of whether Armstrong has a path to redemption, or whether he even deserves one. It's a film that puts the obvious question up straight away, and invites us to see and hear what follows while keeping it in mind: After he lied so long, and so insistently, can we trust anything Armstrong tells us?
What emerges over the film's three-plus hour running time (both parts are longer than an hour and a half each) is a nuanced and fascinating picture. Armstrong has shed the defensiveness of those memorable years when rumors and accusations would circulate and he would answer in an aggressive, confrontational style - a style that showed up in everything from the lawsuits he brought to an ad in which he addressed doping rumors with overt disdain. What we see now is someone who hasn't exactly been humbled, but who has - seemingly, at least - grown more reflective, and had time to consider the breadth and depth of the impact he's bad, both for good and ill.
Armstrong is famous for having won seven consecutive Tour de France races after a bout with advanced cancer that had already riddled his body when it was discovered, leaving his doctors skeptical about his chances for survival. That he pulled through and was cured is a marvel of modern medicine, if not a downright miracle; that he then came back to global dominance in his sport is nothing short of phenomenal. (That much seems clear even given Armstrong's use of performance-enhancing substances; doping or not, he truly was an exceptional athlete, and one tantalizing question the film raises is how much advantage any given athlete enjoys from doping if everyone in a given sport is doping right along with him.)
What Armstrong is also famous for is having founded the Livestrong Foundation, which even now does great work in supporting cancer patients. More than that, by speaking out, matter-of-factly and without shame, about his own bout with the disease, Armstrong has, we are reminded, done a lot to "destigmatize" having cancer.
Armstrong speaks just as forthrightly in the film, pondering questions about why he did the things he did, expressing shame on occasion - especially in a moving moment late in the film when he reflects on how a close friend, also a member of the cycling world from the same era as himself, has been battered personally and professionally by the doping scandal. There's more than a little of the arrogant old Lance here, unabashedly offering is opinions of other athletes (of one subsequent Tour de France winner he's downright dismissive; of competitors in the many races he won, Armstrong comments, "They didn't get me up early"). At one point he refers to whistleblower Floyd Landis, a cyclist whose career was ended by a doping scandal who later implicated legions of other cyclists, as a "piece of shit."
He can be just as unsparing when discussing his own failings, but some of his comments carry a ring of self-justification: "I wouldn't change a thing," Armstrong says more than once, allowing that "I needed a fucking nuclear meltdown. And I got it." But here and there something deeper - something under the press-ready armor - seems to peek through, as when Armstrong subsequently admits that he does have regrets about not being "a better man" in the past.
Director Marina Zenovich takes her camera into Armstrong's life, interviewing not only the former champion but also his long-term life partner, Anna Hansen, and Armstrong's adult son, Luke. Zenovich also seeks out many of Armstrong's old teammates, along with peripheral players in the drama, including the Anti-Doping Agency's CEO, Tyler Tygart, who - after the federal government unaccountably dropped its investigation into Armstrong - launched an investigation of his own, determined to root doping out of professional cycling. (Tygart tells us that Armstrong got the same offer as other pro cyclists who'd been implicated got: They'd be treated kindly if they cooperated. Lance's camp refused, Tygart says, retreating into their then-customary mode of "deny and lie and attack.")
Zenovich has created a thorough work, which she allows to proceed at its own unhurried pace. Part One looks into Lance's origins as a breathtakingly talented athlete from an early age and, perhaps unsurprisingly, something of a brat. It's only as Part One is ending that the first murmurs of the doping scandal to come enter the chronology (though commentators have already touched on it, and on Armstrong's breach of trust with cycling fans and the public).
One comes away from this documentary feeling that Armstrong's fall from grace was a kind of karmic answer to the many, many days on his bike, aggressively competing with other talented athletes, that he managed to avoid one of those spectacular wipeouts that leave racers with mangled shirts and broken ribs. Those thrilling races Armstrong defined really were momentous occasions, and those old enough to remember them might feel a rush of nostalgia at seeing highlights here. Derek Bouchard Hall, the former CEO of USA Cycling, tells us, "it's not clear how well he would have done if everybody was clean," but the background provided in Part One suggests that, in that case, Armstrong would still have stood out from the pack, as he did well before he began doping at (he tells us) the age of 21.
In the end, Armstrong will still have his detractors and his fans. The film does not put Armstrong on trial, but it does invite the viewer, subtly, to think about the ways in which an adoring public - by the very act of their adoration - prepares the way for just such a fall. Whether it's a sports figure, a politician, or any other public person, what we risk when we communally elevate a person to global celebrity status is the disappointment of realizing, eventually, that he or she is still a human being. At the height of his success and fame, Lance Armstrong - the athlete who beat cancer and then conquered one of the world's most grueling physical contests seven years in a row - filled our hearts with admiration and even joy. But was it Armstrong who broke our hearts when the false front of lies he constructed to protect his achievements came tumbling down? Or did we do that to ourselves?
As for Armstrong, what we see here is what we probably should have sene all along: A person of accomplishment and rare talent who also possesses grave faults. (One interviewee uses the term "Shakespearean," but Armstrong's story might be closer to something from an Ancient Greek tragedian, with his undoing inextricably bound up to the qualities that allowed him to reach for greatness. Lance Armstrong is, at last - as are most of us - a work in progress.

Part One of "Lance" airs on ESPN at 9 pm ET on May 24, with a repeat airing on ESPN+ right afterward. Part Two follows on May 31.
Kilian Melloy serves as EDGE Media Network's Assistant Arts Editor. He also reviews theater for WBUR. His professional memberships include the National Lesbian & Gay Journalists Association, the Boston Online Film Critics Association, The Gay and Lesbian Entertainment Critics Association, and the Boston Theater Critics Association's Elliot Norton Awards Committee.
Comments on Facebook