Top Story
An openly gay 23-year-old Saudi man who is an online personality has been arrested and charged with "sharing nudity online" after having posted a photo of himself at the ...
1 thru 10 of 50078 Stories
A proposed ban on so-called conversion therapy in Utah is in danger of being derailed after the influential Church of Jesus of Christ of Latter-day Saints came out in opposition, just months after it said it wouldn't stand in the way of a similar measure.
The parents of Matthew Shepard, the gay college student murdered in 1998, assailed Attorney General William Barr for what they called hypocrisy on LGBT rights during a Justice Department ceremony commemorating a hate-crimes law named after their son.
A Georgia school district says it won't let transgender students use bathrooms aligning with their gender identity, reversing a previous decision.
Scotty Bowers, a self-described Hollywood "fixer" whose memoir offered sensational accounts of the sex lives of such celebrities as Katharine Hepburn, Cary Grant and the Duke and Duchess of Windsor, has died. He was 96.
A gay NYC man recounts being propositioned on the street by a stranger who then subjected him to a brutal attack and robbery.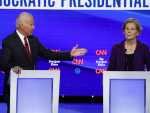 Voters got a better look at Democrats' health care priorities on Tuesday, as 12 of the leading candidates vowed to codify abortion access, threatened to jail opioid company executives and added a few more details to their health plans.
General Motors CEO Mary Barra joined negotiators at the bargaining table, an indication that a deal may be near to end a monthlong strike by the United Auto Workers union that has paralyzed the company's factories.
Jury selection is scheduled to begin Wednesday in the first federal trial over the opioids epidemic.
A dozen Democratic presidential candidates participated in a spirited debate over health care, taxes, gun control and impeachment. Takeaways from the three-hour forum in Westerville, Ohio.
The impeachment inquiry is revealing vivid new details about the high-level unease over President Donald Trump's actions toward Ukraine and those of his personal lawyer Rudy Giuliani as the swift-moving probe by House Democrats shows no signs of easing.
1 thru 10 of 50078 Stories