East Side Pride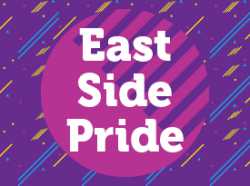 When:
Saturday June 23 at 11:00AM

Where:
Grandview Park

Visit Facebook Event
About:

June 23, 2018 - 11:00-6:00pm
Grandview Park, 1657 Charles Street

Celebrate Pride on the East Side! Join us on June 23 in Grandview Park for the annual East Side Pride festival. Take in our line-up of local performers, move and shake across the grass during a public dance lesson, visit our Community Market with over 30 vendors and Community Partners, and grab a bite at a food truck! Bring a blanket to enjoy the music while having a picnic and get ready for a family friendly afternoon in the sun!

In addition to fun, child-friendly activities run by VPS, Grandview Park features a playground and water park.

****Getting to Grandview Park****

Grandview Park is located on Commercial Drive between William and Charles Street. You can access the park via transit along the number 20 bus route or by walking about a 20 minutes from Commerical Broadway Skytrain Station. There is limited street parking in the surrounding streets.

Thinking of riding your bike? The friendly folks at The Bicycle Valet will be waiting to securely park your ride for FREE while you enjoy the event. Check out how it works at www.thebicyclevalet.ca/faqs-for-cyclists/


****Access Information****

If you require any assistance related to accessibility or have any questions please contact accessibility@vancouverpride.ca.

Accessible gender neutral portapotties are available in addition to the park's accessible washrooms which will be de-gendered for the festival.

ASL Interpretation will be provided by Laine, Denise, and Kirsten.

A shaded space with chairs will be provided with sight-line access to view ASL Interpretation. A second shaded space will be provided close to the path for people using mobility devices and vision loss.

The park has paved pathways on an incline.

This year we are proud to premiere The Magic of Drag Tactile Tent. This experience will be accessible to all with a focus on those with vision loss, sensory issues, and disabilities. Visitors will be invited to feel wigs and tactile fabrics with a Drag Queen from Tuck Entertainment Inc. who will explain their dressing, make-up and hair process. This will be followed by mini-make overs and a chance to handle brushes and other make-up tools.


****Performers****

Hosted by Tonye
Out in Harmony - Choir
Chronfused - Eclectic electronic jazz
Saint Wellesley - Singer/songwriter
The Dawning - Singer/Songwriters
Michelle Joly Music - Indie Roots
HED?S - Rock
Mamarudegyal MTHC - Hip-Hop, R&B, Soul
Tuck Entertainment Inc. - Drag performances
Dia-Nos
Devours
Scizzor Fairy


****Activities****

- Ultimate Frisbee with Rain City Ultimate Club
- Dance lessons with Dance in Transit
- Giant Rainbow Jenga
- Instant Sister Photobooth with the Vancouver Sisters of Perpetual Indulgence
- Rainbow Parachute
- Button Making
- Colouring
- The Magic of Drag Tactile Tent

We recognize this event takes place on the unceded, occupied territories of the x?m??kw?y??m (Musqueam), S?wx?wú7mesh (Squamish),and S?l?ílw?ta?/Selilwitulh (Tsleil-Waututh) peoples and are thankful to our hosts in their stewardship of the land for time immemorial.