1 thru 10 of 6849 Stories
While some wonder whether Pete Buttigieg has the experience necessary to run the country, fifty-eight current and former mayors weighed in with an editorial arguing that he is the best candidate for the job because of, not despite, being a mayor himself.
House Democratic leaders on Thursday unveiled an aggressive plan to lower drug prices through negotiations between federal health officials and the makers of some of the most expensive drugs.
While many Democrats are focused on winning back several Rust Belt states that backed President Donald Trump in 2016, a progressive group plans to spend $50 million to make sure the party doesn't overlook opportunities in the Sun Belt.
Warren and Biden increasingly face the same challenge: the pressure of being on top.
At Friday's forum on LGBTQ issues in Iowa, Presidential candidate Joe Biden found himself on the defensive when asked questions by a local female reporter, who claimed later than his treatment of her was condescending.
President Donald Trump urged the new leader of Ukraine this summer to investigate the son of former Vice President Joe Biden, a person familiar with the matter said.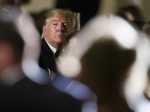 A whistleblower's complaint over President Donald Trump's interactions with a foreign leader is testing the political and practical power Democrats can use against a Republican in the White House.
Very behind the scenes, a whistleblower from the intelligence community voiced urgent concern about a matter involving a conversation between Ukraine's leader and President Donald Trump.
When Barack Obama marched into the 2007 Iowa steak fry flanked by 1,000 supporters, skeptical Iowans were put on notice that he could win the state's caucus.
U.S. Rep. Joe Kennedy III formally declared his candidacy for the U.S. Senate on Saturday, becoming the first member of the Kennedy political dynasty to bid for the upper chamber of Congress since Edward M. Kennedy in 1962.
1 thru 10 of 6849 Stories