Top Story
Playwright Jeremy O. Harris has a rule that he doesn't cry in public. He broke that rule the night Rihanna attended his Broadway debut.
Elton John, co-writer of the chart-topping 1994 Lion King soundtrack, called the new 2019 version a "huge disappointment" in an interview with GQ. Check out the rest of his comments here.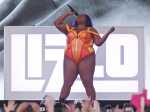 There's a debate about the truth behind Lizzo's "Truth Hurts."
Drawing on his own Jewish heritage and experiences growing up surrounded by prejudice, Taika Waititi was excited to make a movie against hate through a satire of the Nazi culture at the height of WWII, until he saw himself dressed as Hitler.
Ken Burns is inaugurating an annual prize for makers of historical films with a $200,000 grant to the people behind an upcoming movie about the late Georgia writer Flannery O'Connor.
EDGE spoke with Judy Garland authority John Fricke about the upcoming tribute to the singer on October 30 as part of this year's Cabaret Convention in New York City.