U.S. overdose deaths last year likely fell for the first time in nearly three decades, preliminary numbers suggest.
The average American only gets 10 nights of perfect sleep in a month, according to new research.
Newly released federal data shows how drugmakers and distributors increased shipments of opioid painkillers across the U.S. as the nation's addiction crisis accelerated from 2006 to 2012.
Researchers who have tracked drug use for decades believe the new meth crisis got a kick-start from the opioid epidemic.
The German government is proposing a measure to make measles vaccinations mandatory for children and employees of kindergartens and schools.
Taxpayer-funded family planning clinics must stop referring women for abortions immediately, the Trump administration says.
With major news outlets such as The Economist and Forbes declaring 2019 the "year of the vegan", the trend promises to continue.
After feeling sick for several days the pastor boarded a bus traveling to eastern Congo's largest city. Only upon arrival at his destination did anyone suspect he had the highly deadly and infectious Ebola virus.
A nonprofit foundation set up by Democratic presidential candidate Joe Biden that relied on health care world partnerships to speed a cure for cancer has suspended its operations, it announced Monday.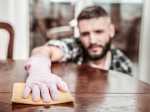 You vacuum it, sweep it and wipe it off your furniture. But do you know what it actually is — and how it may affect your health?