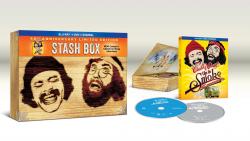 Celebrate 40 Years of Feeling Very Funny

CHEECH & CHONG'S UP IN SMOKE

40th Anniversary Edition Lights Up April 10, 2018 on Blu-ray™ Combo Pack with Brand New Short-Form Documentary "How Pedro Met the Man: Up In Smoke at 40" and More

Fire up the home entertainment system and call your buds because the ultimate stoner comedy is celebrating its 40th anniversary. The high-larious cannabis cultural epic breakthrough UP IN SMOKE will "... grab you by the poo poo" all over again when it arrives on Blu-ray Combo Pack and DVD April 10, 2018 from Paramount Home Media Distribution. A special Deluxe Collector's Edition, pairing the Blu-ray with the original soundtrack on CD and VINYL LP in deluxe packaging, will arrive the following week on 4/20 from Rhino, featuring a newly recorded "2018 version" of the title song "Up In Smoke."

In 1978, Cheech Marin and Tommy Chong made their feature film debut in UP IN SMOKE, the outrageously funny classic inspired by their now legendary comedy routines of the early '70s. Following massive success with over 10 million comedy albums sold, four Grammy nominations and a win for Best Comedy Recording for "Los Cochinos," Cheech and Chong took Hollywood by storm when UP IN SMOKE became a smash hit, establishing the pair as the reigning comedy duo of a new generation. Today, the film still has viewers rolling in the aisles and maintains surprising cultural relevance four decades after its original release.

In UP IN SMOKE Cheech and Chong play wannabe musicians and stoners who unwittingly smuggle a van made of marijuana from Mexico to L.A. Their drug-laced humor keeps their spirits high as they unknowingly elude the police and meander their way to an outrageous finale at the Roxy Theatre in Hollywood where Cheech performs in a pink tutu and Chong plays drums in a red body suit with a Quaalude logo.

The UP IN SMOKE Blu-ray Combo Pack features a brand new short-form documentary entitled "How Pedro Met the Man: Up In Smoke at 40," which chronicles the duo's comedy history, as well as the origins and impact of the film itself. Capturing a complex and fascinating pop culture odyssey, the documentary incorporates new interviews with Cheech Marin, Tommy Chong and producer/director
Lou Adler along with archival footage. The Combo Pack is also loaded with previously released bonus material including deleted scenes, commentary, a music video and more.

The stash box is only available at FYE

Enter to win!

Thanks for visiting EDGE!
Enter this contest
If you already have an account with EDGE, all you need to do is log in; we'll pull your address information from your account and simply ask you to verify it. If you do not yet have an account with us, register now! It's easy and free, and you'll never have to type in your personal information again. If you prefer to enter this information manually, you can use the manual entry link below.
Register
Manual Entry
Click here for contest rules.
* Please be aware that creating multiple accounts for the same person will disqualify you.