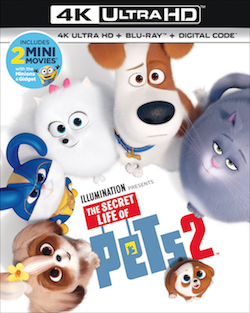 THE SECRET LIFE OF PETS 2

BE THE FIRST TO OWN IT ON DIGITAL AUGUST 13, 2019
4K ULTRA HD, BLU-RAYTM AND DVD AUGUST 27, 2019
FROM UNIVERSAL PICTURES HOME ENTERTAINMENT

The perfect movie for everyone arrives home this summer with the irreverent yet heartfelt sequel to the blockbuster sensation in The Secret Life of Pets 2, debuting on Digital August 13, 2019 and on 4K Ultra HD, Blu-ray™, DVD and On Demand August 27, 2019. From Illumination, the studio that brought you the original Despicable Me, Minions and Sing franchises, the highly anticipated follow up to the hit animated film led by a star-studded comedic cast reunites all of our favorite Pets and their growing families in a new chapter that explores the deep bond between them and the humans that love them. The 4K Ultra HD, Blu-ray™, DVD and Digital versions of the film are packed with more than 90 minutes* of bonus content only when you own, including two brand new, laugh-out-loud funny mini-movies - Super Gidget, featuring the film's adorable Pomeranian Gidget and her best friend Max and Minion Scouts, starring everyone's comical little helpers, the Minions. Additionally included are deleted scenes, DIY and drawing tutorials as well as a special interactive Captain Snowball Motion Comic allowing viewers to direct our boisterous bunny hero on his next move exclusive to the 4K Ultra HD and Blu-ray™ versions! As the dog days of summer come to an end, join this endearing cast of four-legged friends for a quality movie night of family fun with the film that uniquely reminds us of why we love our own pets and what makes them so very special.

The Secret Life of Pets 2 explores the emotional lives of our pets, the deep bond between them, the families that love them and answers the question: What are your pets really doing when you're not at home? Terrier Max (Patton Oswalt) is coping with major life changes after Katie's marriage and the arrival of a toddler, Liam. Meanwhile, Gidget (Jenny Slate) tries to rescue Max's favorite toy from a cat-packed apartment with a little help from her feline friend, Chloe (Lake Bell), who has discovered the joys of catnip. And Snowball (Kevin Hart) believes, despite the other pets' teasing, that he's a superhero after his owner starts dressing him in superhero pajamas. But when Daisy (Tiffany Haddish), a fearless Shih Tzu, shows up to ask for Snowball's help on a dangerous mission, he'll have to summon the courage to become the hero he's been pretending to be.

The film features an all-star voice cast including Patton Oswalt (TV's "A.P. Bio"), Kevin Hart (Ride Along Series), Eric Stonestreet (TV's Modern Family), Jenny Slate (Despicable Me 3), Tiffany Haddish (Girls Trip), Lake Bell (TV's Children's Hospital), Nick Kroll (Sing), Dana Carvey (Wayne's World), Ellie Kemper (TV's "Unbreakable Kimmy Schmidt"), Hannibal Buress (Neighbors series), Bobby Moynihan (TV's "Saturday Night Live") and Harrison Ford (Indiana Jones franchise) in his first ever role in an animated film as new farm dog, Rooster.

Website
Facebook
Twitter
Instagram
#TheSecretLifeofPets2

Enter to win!

Thanks for visiting EDGE!
Enter this contest
If you already have an account with EDGE, all you need to do is log in; we'll pull your address information from your account and simply ask you to verify it. If you do not yet have an account with us, register now! It's easy and free, and you'll never have to type in your personal information again. If you prefer to enter this information manually, you can use the manual entry link below.
Register
Click here for contest rules.
* Please be aware that creating multiple accounts for the same person will disqualify you.