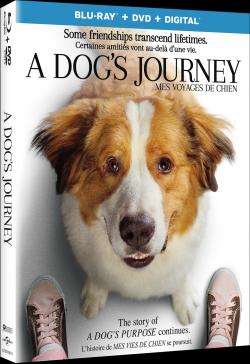 DENNIS QUAID AND BAILEY ARE BACK

IN THE HEARTWARMING SEQUEL

A DOG'S JOURNEY

ON DIGITAL AUGUST 6, 2019
BLU-RAY, DVD AND ON DEMAND AUGUST 20, 2019
FROM UNIVERSAL PICTURES HOME ENTERTAINMENT

PACKED WITH BONUS CONTENT INCLUDING
NINE DELETED AND EXTENDED SCENES, GAG REEL
AND FIVE FEATURETTES

Picking up where A Dog's Purpose left off, A Dog's Journey, available on Digital on August 6, 2019, as well as on Blu-rayTM, DVD and On Demand on August 20, 2019, continues the tale of lovable farm dog Bailey, as he finds a new destiny and forms an unbreakable bond, and learns that some friendships transcend lifetimes. A hit with audiences, who rated it an "A" CinemaScore, the movie is "a must-see for any dog lover" (Chuck Yarborough, The Plain Dealer) and the perfect choice for family viewing, teaching universal lessons about the values of friendship and devotion. "Pawsitively" uplifting from start to finish, A Dog's Journey features over 30 minutes of bonus content including deleted and extended scenes, a hilarious gag reel and featurettes with the cast and a behind the scenes look at the memorable animal performances.

Bailey (voiced again by Josh Gad; Beauty and the Beast, Frozen) is living the good life on the Michigan farm of his former "boy" now grown to manhood, Ethan (Dennis Quaid; A Dog's Purpose, I Can Only Imagine) and Ethan's wife Hannah (Marg Helgenberger; "C.S.I.," "Under the Dome"). He even has a new playmate: Ethan and Hannah's baby granddaughter, CJ (Kathryn Prescott; "24: Legacy"). Everything is great on the farm until CJ's mom, Gloria (Betty Gilpin, Isn't It Romantic, "GLOW"), decides to take CJ away and chase her own fulfillment in the big city. Ethan asks Bailey to watch over CJ wherever she goes and thus begins Bailey's adventure through multiple lives filled with love, friendship and devotion as he, CJ, and CJ's best friend Trent (Henry Lau; Internationally famous pop star) experience joy and heartbreak, music and laughter, and few really good belly rubs.

Directed by Emmy winner Gail Mancuso ("Modern Family"), A Dog's Journey is produced by Gavin Polone (A Dog's Purpose), and written by W. Bruce Cameron & Cathryn Michon, and Maya Forbes & Wally Wolodarsky, based on the best-selling novel by Cameron.

Website
Facebook
Twitter
Instagram

Enter to win!

Thanks for visiting EDGE!
Enter this contest
If you already have an account with EDGE, all you need to do is log in; we'll pull your address information from your account and simply ask you to verify it. If you do not yet have an account with us, register now! It's easy and free, and you'll never have to type in your personal information again. If you prefer to enter this information manually, you can use the manual entry link below.
Register
Click here for contest rules.
* Please be aware that creating multiple accounts for the same person will disqualify you.