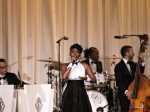 Janelle Monae brought down the house Saturday at Ralph Lauren's New York Fashion Week show, where "the house" was a jazzy nightclub of yesteryear that Lauren created inside a Wall Street building to debut his fall collection.
Playful yet provocative alt-pop sensation, MIKA, continues to fearlessly dive into dark waters penning deceptively danceable yet deft and nuanced new music with his fifth studio album, "My Name is Michael Holbrook," dropping this October.
Singer Pamela Enders loved jazz great Nancy Wilson as a child; this Tuesday she offers a tribute to Wilson at Boston's Club Cafe. EDGE spoke to Enders about Wilson, great jazz singer & how singing influences her day job.
"Uptown Funk," "Read All About It" and "Work" are three of the songs on America's cleaning playlist, according to new research.
Here I am again, reporting on music acts in cabarets and clubs. In this second edition of my regular column I thought we'd bend our ears and lend our thoughts to the popular practice of singers presented in acts structured to honor iconic songs/artists.
The yearly celebration of all things John Williams blasted off this weekend turning the Hollywood Bowl into a cinematic celebration complete with hundreds of lightsabers ignited in reverence.
Sheryl Crow has a lifetime of stories of hanging out with rock stars, pop stars, athletes, icons and music royalty, some even featured on her new collaborative record, but don't expect her to start revealing any secrets in an autobiography.
A benefit concert for suicide prevention featuring the music of the late star Avicii is being planned for Dec. 5 in Stockholm, Sweden. Proceeds will support the work of the new Tim Bergling Foundation, named for the musician who killed himself in April 2
Randy Rainbow drags the Donald - and his claims to godhood - with a parody music video that riffs on "Jesus Christ Superstar."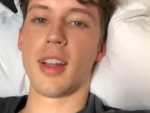 Troye Sivan endured a barrage of odd and inappropriate questions during a recent interview, but one question struck fans - and singer - as especially off-putting.