Matt Healy, the lead singer behind the rock band the 1975, is making headlines this week after locking lips with another man during a Wednesday concert in Dubai to take a stand against the region's anti-gay laws.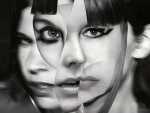 A jarring response to the current world, a highly compelling listen, and a bittersweet end to the band's era with drummer Janet Weiss, "The Center Won't Hold" is a fine addition to Sleater-Kinney's stellar catalogue.
Elvis Presley fans carrying lit candles in the Tennessee night are visiting the rock 'n' roll icon's grave at Graceland during the annual vigil commemorating his death 42 years ago.
Though Lil Nas X has broken chart records and become a streaming juggernaut with his breakout country rap hit "Old Town Road" with Billy Ray Cyrus, the song faces an uphill challenge to get a nomination for a CMA award.
Lizzo's breakthrough hit "Truth Hurts" is a two-year-old song, but it still has a chance at the 2020 Grammy Awards.
A representative for K-pop superstar group BTS said Tuesday the boy band is taking a break, but it will only be brief.
While two U.S. opera houses immediately canceled performances by famed tenor Placido Domingo following sexual harassment allegations, European opera houses are taking stances ranging from supportive to wait-and-see.
If you do a Google search of Khalid, the 21-year-old R&B boy wonder from El Paso, the one thing that nearly every article about him touches on is just how impressive and swift his meteoric ascent to the top has been.
Two music companies canceled appearances by Placido Domingo and the Los Angeles Opera said Tuesday it would launch an investigation in response to an Associated Press story in which numerous women accused the opera legend of sexual harassment.
Lil Nas X, Lizzo and Shawn Mendes are set to perform at the 2019 MTV Video Music Awards.