1 thru 10 of 6156 Stories
Philip Glass & the Philip Glass Ensemble accompanied a screening of 'Koyaanisqatsi' in Boston on Friday night. To hear his score live while watching the film was an event to cherish.
"If I thought I'd be doing this job at 70 years old, and you're still coming to see me," joked Billy Joel on the stage at Fenway Park this past weekend.
Two Door Cinema club, supported by Overcoats, played to a packed House of Blues crowd on Monday. Check out our review here, as well as their tour schedule together.
This weekend the Boston Symphony Orchestra premieres a new commission by composer Eric Nathan. EDGE spoke to Nathan about his "Concerto for Orchestra" and his personal history with the orchestra.
Kristin Chenoweth is heading back to Broadway in November for a one-week engagement to celebrate her newest album, "For the Girls." EDGE spoke to the Tony-winning Broadway star about how the new album came about.
With more than 60 dates over eight months, Musgraves as been doing one hell of a victory lap by way of a sprawling North American tour, having just brought her "Oh, What a World Tour" back to Boston for the second time this year.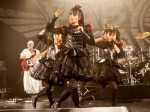 The House of Blues may seem like too small a venue to have a wall of death to open up, but when the crowd respects a band as much as Wednesday's crowd did Babymetal, anything is possible. Read our EDGE review of the show, accompanied by Avatar, here.
The popular film gets a redux for the stage in this soundtrack, an invigorating take on what has become a pop-culture phenomenon.
Ric Ocasek, The Cars frontman whose deadpan vocal delivery and lanky, sunglassed look defined a rock era with chart-topping hits like "Just What I Needed," was discovered dead Sunday afternoon in his Manhattan apartment.
On "Charli," Charli XCX explores different musical veins with a wide variety of guest artists including Troye Sivan, Lizzo and Big Freedia.
1 thru 10 of 6156 Stories