Khalid - 'Free Spirit Tour' | TD Garden/Boston/August 10, 2019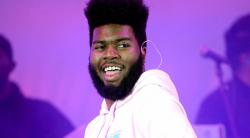 If you do a Google search of Khalid, the 21-year-old R&B boy wonder from El Paso, the one thing that nearly every article about him touches on is just how impressive and swift his meteoric ascent to the top has been. From building an early fan base on SoundCloud to a VMA for Best New Artist, selling more than a million copies of his debut LP, nabbing five 2018 Grammy nominations, and clocking more than 50 million monthly listeners on Spotify, Khalid is only getting started.

Now, he's on the home stretch of the 36-date North American tour in support of his latest LP, "Free Spirit," which was released in April and gave him his first number one album. After the tour wraps up next week in Miami, Khalid will take the wildly successful arena show—his largest to date—to Europe and Australia. Pretty impressive for someone unknown just three years ago.

If Lana Del Rey can be considered the prophet of the Urban Outfitters generation, then Khalid might just be the spokesman, giving voice to the frequently oh-so-dramatic anxieties and adolescent woes of kids that are barely old enough to move out of their parents' house. And judging from the nearly sold-out crowd at Boston's TD Garden Saturday night, those kids came out in droves.

Khalid's vocals are uncommonly pure, and even if it was frequently difficult to hear the lyrics over the screams, it was gratifying to see a young performer still gobsmacked—if not quite surprised—by how much love was pouring up at him from nearly 20,000 fans (the last time he came Boston on tour was at the 2,500 seat House of Blues in 2017).

Even though many of Khalid's songs are profoundly intimate and personal—they're the kind of songs that I like to have on in the background—even the most mellow soundscapes were impressively transformed into arena-size anthems, something that is not always the case when greenish performers with mellow sounds try to pull off an arena show. Other reviews of the "Free Spirit Tour" would have led me to believe that a Khalid concert was akin to a propofol drip, but I didn't find that to be the case at all. The setlist is well-paced, with his biggest hits and most infectious songs well positioned so that the energy never dropped for too long.

A group of backup dancers—clad in various neon jumpsuits and pieces of Khalid's official merch—helped keep the energy high, though the pulse of the show would have been better if the dancers had more stage time. And speaking of neon, the look of the show is resolutely retro: sleek, electric, and very Instagrammable.

Khalid cycled through more than 30 songs—not counting an impromptu rendition of "Happy Birthday" to one fan—and although songs like "8TEEN," "Better," "Location," "Young Dumb & Broke," and "Eastside" were all high points, the most impressive vocals of the evening were on a quiet but incendiary cover of Fleetwood Mac's "Dreams," even if most of the very young crowd didn't seem to recognize it.

Although it is true that the vibe of the show was occasionally a bit too dialed down for the arena-sized space, there's no denying that Khalid—with his infectious ear to ear grin and smooth as can be personality—is one of most musically exciting new voices to shake up the R&B field in recent memory. And as he finished out the set with "Saturday Nights," a track from last year's Suncity EP, it was impossible not to believe him when he sang: "There's nowhere I'd rather be than right here, right now." And by the concert's end, the feeling was definitely mutual.

The "Free Spirit Tour" continues this week with dates in Atlanta, Orlando, and Miami before heading to Europe in September. For more information, visit his website.
Comments on Facebook