Top Story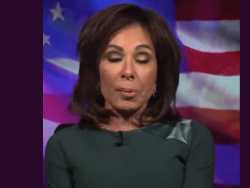 "Saturday Night Live" may currently be off the air but Judge Jeanine Pirro provided much comic relief to TV viewers last night when she broadcasted from her bunker, er ho...
1 thru 10 of 14738 Stories
In viewing "Uncut Gems," you might want to take some Xanax beforehand. If only the film came with a prescription.
The horror film "Midsommar" features a sacrifice made by elders in a remote Swedish cult. Is this what some conservatives are suggesting as the way forward?
Spike Lee's "Bamboozled" is damning, to say the least, perhaps now more than ever, two decades after the film's initial release. It is now available on The Criterion Collection.
For the most part, we want our dog movies like our pooches: Comforting, obedient and slightly slobbery. This new adaptation fits the bill.
"Downhill" is American take on the Swedish film "Force Majuere," that looks at a family in crisis with Will Ferrell and Julia Louis-Dreyfus.
For camp attendees who came with polio, cerebral palsy and other disabilities, Jened was a utopia of acceptance and community. And it helped spark a movement.
Hulu will exclusively stream "Portrait of a Lady on Fire" starting Friday, a press release announced today.
The Golden Globes will accept movies submissions without a theatrical release for the first time due to the coronavirus pandemic, the Hollywood Foreign Press Association announced Thursday.
Meghan, the Duchess of Sussex, has her first post-royal job: narrating a Disney documentary about elephants.
It's a film that is a long time in the making for Penny, who cut his teeth writing and producing television shows like "Scrubs," "Happy Endings" and "Brooklyn Nine-Nine."
1 thru 10 of 14738 Stories