Top Story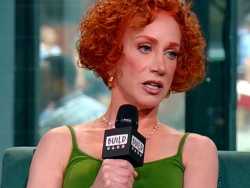 As if fallings out and feuds with CNN's silver fox and the president of the United States weren't enough, Griffin is also on the outs with lesbian comic Ellen DeGeneres. ...
Lawyers for Jussie Smollett on Friday filed motions contending that because the actor was the victim of an attack earlier this year in Chicago a judge should reverse his decision to appoint a special prosecutor.
Nearly 40 years after first forging their friendship while working together on the nighttime soap "Knots Landing," actresses Joan Van Ark, Michele Lee and Donna Mills are now more than just friends — they're a sister act.
Pam Grier's role as the owner of a hardware store in rural Nebraska in the ABC sitcom "Bless This Mess" isn't a complete departure for the film legend.
Urged on by the first lady and celebrities including Kanye West and Kim Kardashian West, President Donald Trump said Friday he is trying to help free rapper A$AP Rocky, who has been held in police custody in Sweden for weeks.
The mesmerizing journey of an undocumented trans girl in NY is the subject of this excellent movie produced by, and starring, over 50 members of the trans community.